Jack Funk is a musical family of monkeys that hoot, stomp and clap, seeking to decipher the modern world in phrases that translate fluidly for clean and dirty ears.
By intercepting spontaneous transmissions from an operative known only as Jack Funk, these monkeys descramble messages of freedom and transcendence through music.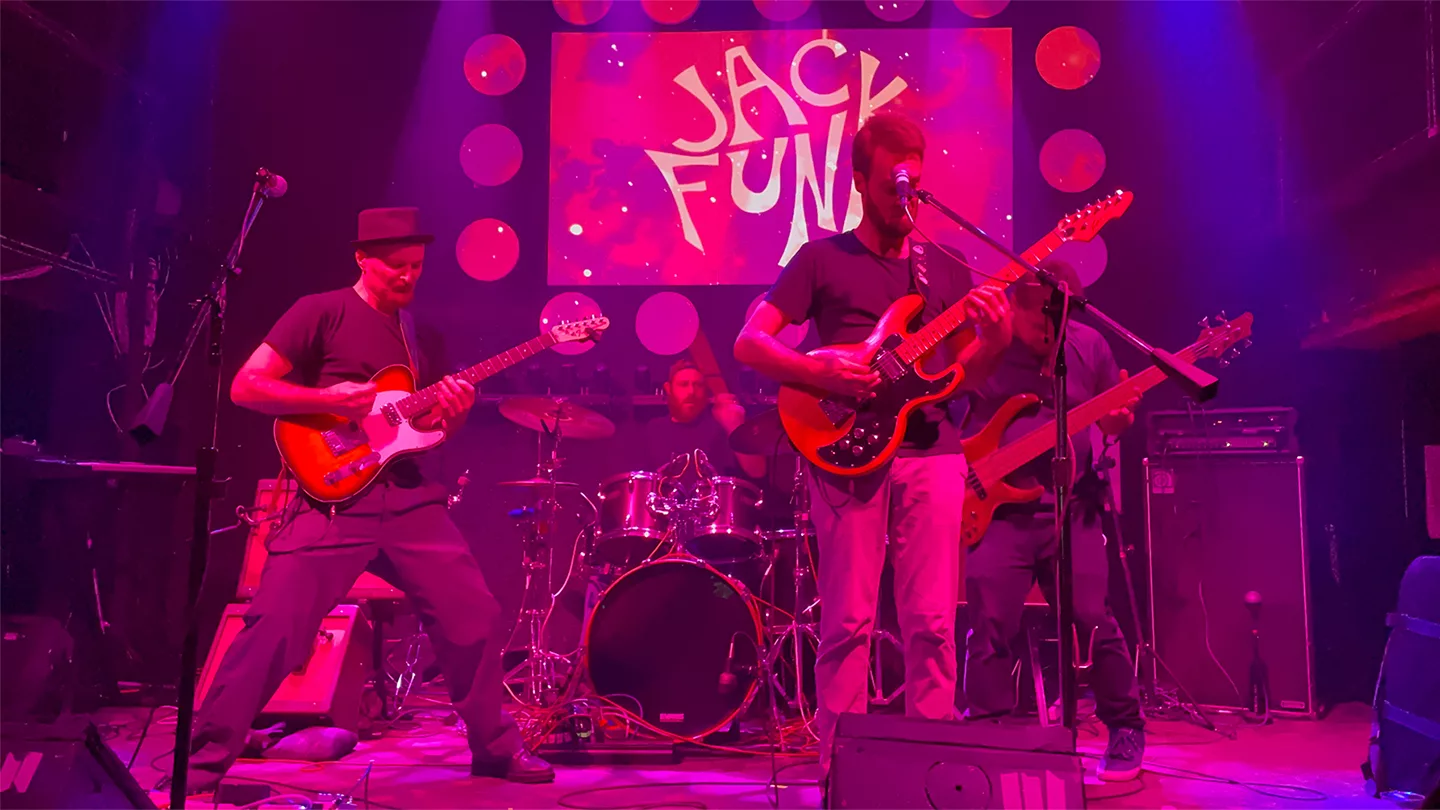 Jack Funk is a band with dedication for original songcrafting, high energy performance, and rocking improvisation. Each member has more than a decade of experience performing live music in MD, DC, VA, NY, PA, and WV. As they tour the eastern states, their performances adapt for each new venue to create a shared connection with the people there. Whether headlining or opening for a larger act, they pour themselves into the music every time, and have a lot of fun doing it, to excite any crowd.
Nick Ring – Vox, Guitar
Ryan Buell – Guitar, Vox
Jason Altomare – Bass
Justin Ehrlich – Drums
Venue Performances
The 8×10, B Chord Brewing, Bar None, Battlefield Brew Works, Bright Box Theater, Cafe Nola, Carroll Creek Amphitheater, The Circle, Dig Deep Brewing Co., Flying Dog Brewery, Gambrill Mountain Food Co., Idiom Brewing Co., Mad Science Brewing Company, Monocacy Brewing Company, MoonShadow Restaurant, Olde Mother Brewing, Olde Towne Tavern, Rockwell Brewery, Sky Stage, State Fare, and Sunshine Day Dream Memorial Park
Festival Appearances
Art All Night DC, Big Dub Festival, Bless The Woods, Clusterfunk, Frederick Festival of the Arts, Funky Fest, Gettysburg Rocks, Jerry Garcia Birthday Bash, Laurel Main Street Festival, Milkhouse Brewery Summer Jam, Old School Weenie Roast, Ragamaru Family Ball, Valley Fusion, Vibrant Sky, and Winter Wonder Jam
Bands Played With
Baked Shrimp, Bats Dynamic String Band, Bobby Lee Rogers, Box Era, CryptoWAVEradio, DaMOOD, The Dirty Middle, Evanoff, Garrett Gleason, Ginada Piñata, Glen David Andrews Band, Hustle Souls, Joe Keyes and the Late Bloomer Band, LITZ, Mark Diomede, Marshal Fuzz, Mateo Monk, Plaeground, Scott Ambush and Funkelociraptor!, Sun & Rain, Sunniva, ThreeSound, and TrailHeads